As AFL fans across the country get excited for the return of footy on Thursday night, there is still an air of nervous anticipation as to what lies ahead. How do we enjoy our national sport in a time of COVID-19?
It looked like a bleak year for the AFL community with footy cancelled after only one round.
Although stadium doors in most states will stay closed to punters, what are the challenges facing clubs and fans with the return of footy and how can we still engage with footy as a community?
Our experts discuss how we'll be watching and supporting our clubs this AFL season.
Will public transport be ready for punters?
With talk of opening stadium doors to a fraction of footy fans, transport expert Liam Davies from the RMIT Centre for Urban Research (CUR) says our public transport systems won't be able to manage physical distancing requirements.
"Even if crowds can attend matches later in the year, there will be significant challenges in ensuring safe physical distancing required to avoid future outbreak," says Davies.
"The MCG has a maximum capacity of 100,000 spectators and even if we were to reduce crowd capacity to only 20%, our transport system would not be able to cope.
"Melbourne's trains can only carry a few hundred people while maintaining safe physical distancing between passengers, meaning they would not be able to safely service even the reduced number of attendees after a game.
"The usual throngs seen at Richmond or Jolimont stations would be a breeding ground for COVID-19.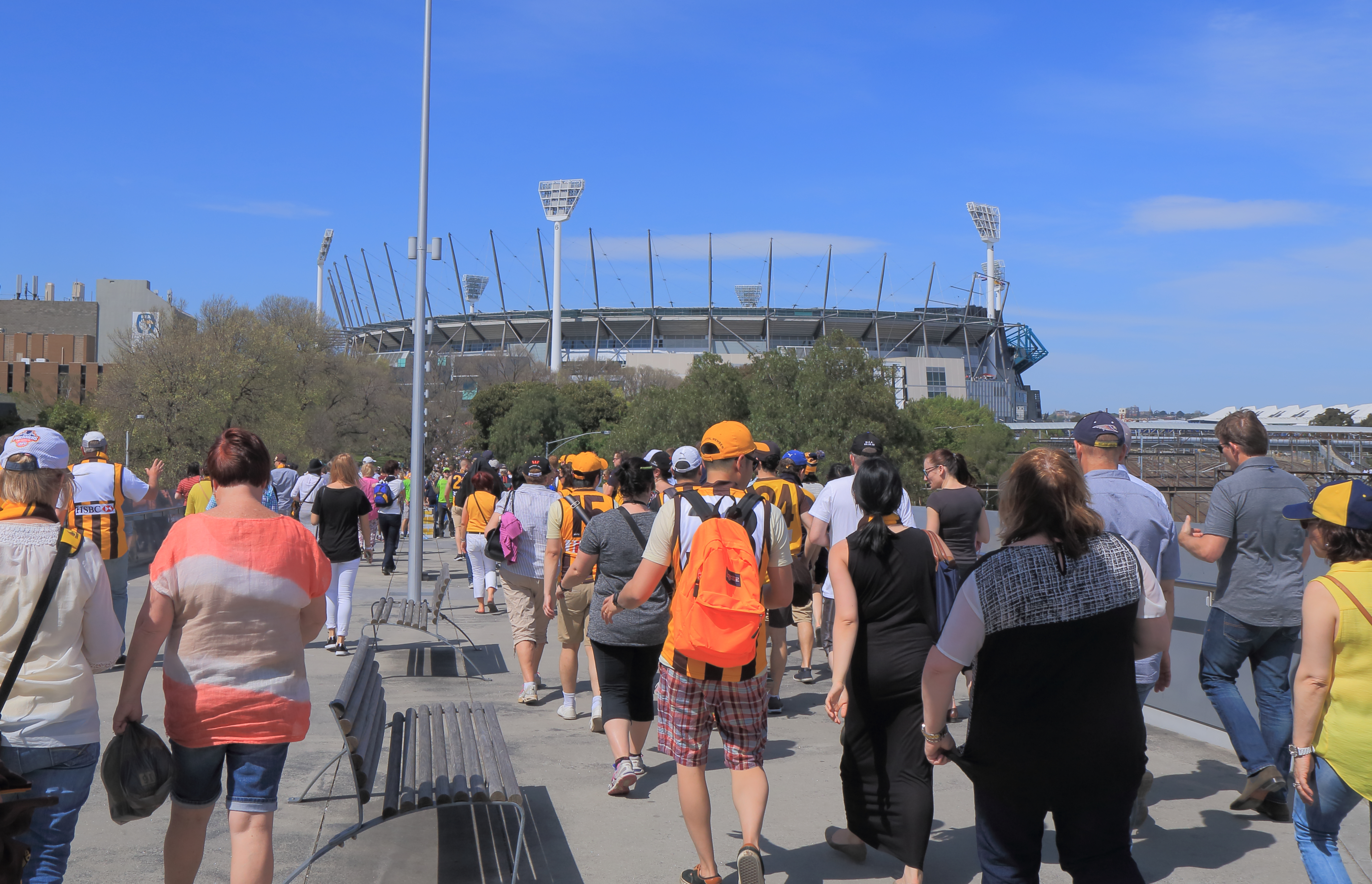 "Driving to the game may seem appealing, but is not a solution either, as Yarra Park can only hold 7,600 cars – not to mention the traffic congestion would be unbearable."
For the foreseeable future, Davies says the best way to watch and enjoy footy is in smaller groups.
"This could be done by portable screens placed in public spaces such as parks or repurposing drive-in cinemas to help punters barrack for their team in a communal way," he says.
St Kilda Football Club are trialling the Dromana Drive-In cinemas as a destination for their fans to watch their Sunday night clash with the Western Bulldogs.
"This would spread footy crowds across Melbourne, making physical distancing easier to maintain."
Pop-up footy in your local park
Agreeing with Davies, urban researcher and PhD Candidate Rachel Iampolski from CUR says we may need to look towards creating safe, local 'hubs' to watch the game.
This could be done by pop-up viewing areas in our neighbourhood parks – including Yarra Park – school ovals, squares or even high streets.
"During lockdown we have been using our local parks more than ever," says Iampolski.
"Different measures have been used overseas to ensure social distancing in public space – such as painting circles in the grass that are 1.5m apart in New York parks.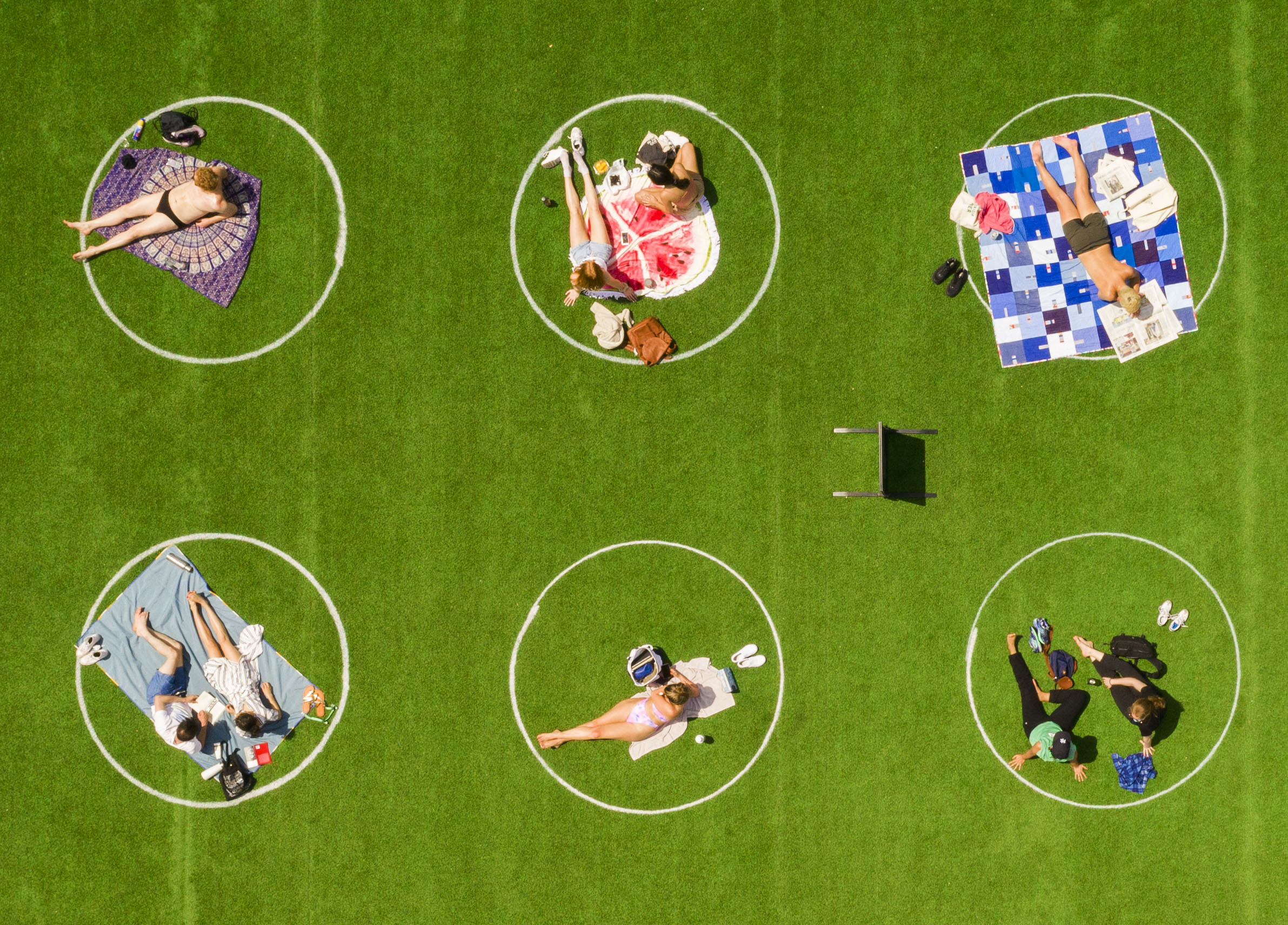 "Similar approaches could be used here in our local parks and public squares to make social gatherings as safe as possible.
"Let's also continue to (re)imagine how we can extend the use of these great spaces, such as enjoying the social side of footy season in a way that is also safe and sustainable.
"Even without being able to gather in large groups to watch the game, we can continue to show our support by decorating the front of our homes with our team colours, or tuning into the game from our front balconies or verandas along with neighbours, just as we do for Grand Final Day."
Sealing the deal for broadcast rights
One of the major challenges for the AFL will be securing a two-year extension on the existing TV rights deal.
With a shorter season, reduced length of matches, and the financial challenges faced by the broadcasters, sports marketing expert and Associate Professor Con Stavros believes the contract will be less than the existing $2.5 billion dollar deal.
"The AFL has made a bold move this year shortening matches from 20 minutes per quarter to 16. The decision poses potential challenges in that it alters the product somewhat for fans, not just broadcasters who may have less time to sell advertising in the period after a goal is scored," says Stavros.
"Television executives will push for a night grand final to bolster national viewing figures and thus advertiser appeal.
"The AFL would be keen to do this deal now, despite the remaining time on the current contract, given it adds some certainty in what are unprecedented economic and social conditions for the sport."
Maintaining members and the economic viability of AFL
Despite the prospect of fans being unable to attend games, Stavros believes the AFL clubs can still maintain their loyal membership base.
"AFL fans predominantly buy memberships as a form of connection to and support of their beloved team, so the sense of that is only amplified in the current extraordinary circumstances," says Stavros.
"Where the clubs will miss out though is on the extras that are attached to memberships, such as seat reservations, which have become increasingly lucrative in recent years."
Stavros says clubs will need to get creative in order to attract fans who are unable to attend the games, such as expanding their digital media engagement.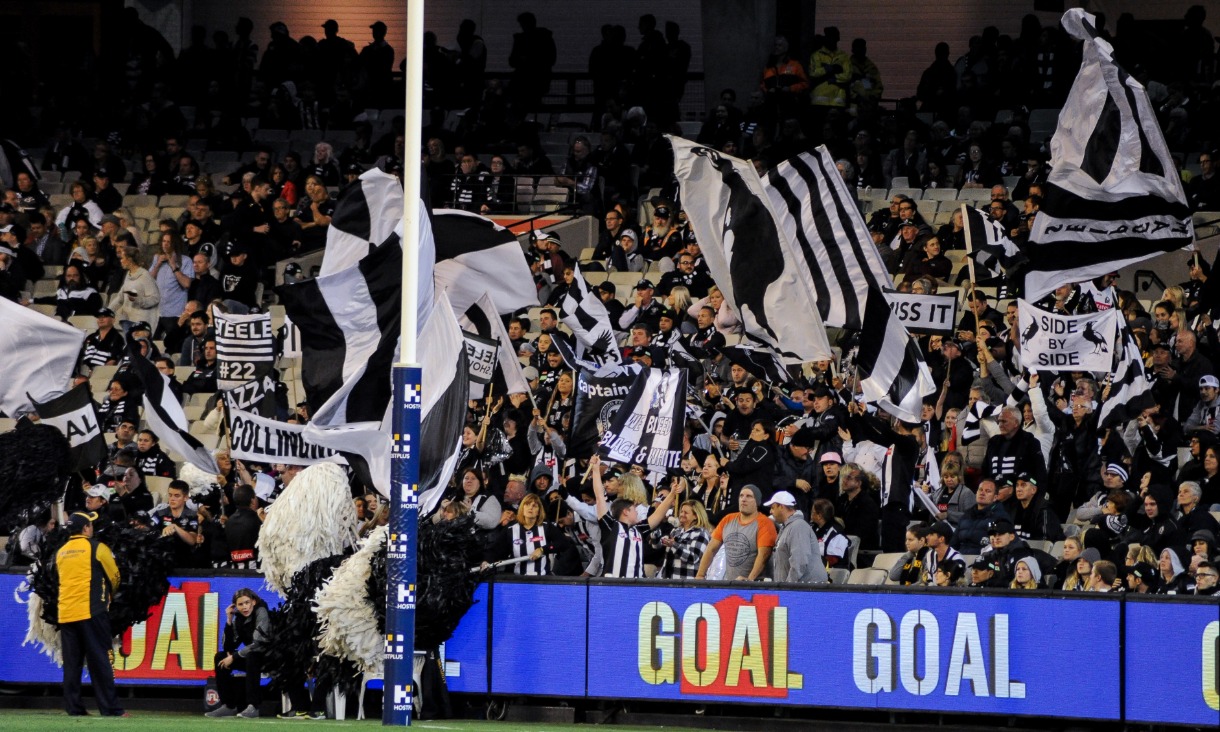 "This is the first time we are seeing relatively lengthy seasons being played out behind closed-doors for an array of sports locally," he says.
"Marketers of sport, and the many brands who use sport to reach their audiences, will be fascinated by what eventuates.
Although, the sheer resilience and appeal of the AFL, particularly in traditional markets, is likely to stand it in relatively good stead."
The resilience and appeal of the AFL has Stavros remaining optimistic about the commercial viability of the code.
"The AFL and its constituent clubs are extremely good operators who have successfully married the business and passion of sport into a highly marketable product," he says.
"That acumen will be put to the test like never before in coming months."
And what about our local country and suburban teams?
While much attention is focused on the return of the major league competition, let's not forget about the integral part our suburban and country footy plays on our community, says urban culture expert Associate Professor Ian McShane from CUR.
"Suspending suburban and country sport competitions has a major impact on sporting and social life, particularly for those in regional and rural centres," says McShane.
"Smaller competitions have shown a capacity to innovate, such as the merging of football and netball competitions to share facilities and keep both ventures viable.
"There have also been significant campaigns in several sports around mental health and social inclusion.
"There is less crowd pressure at these games for spectator safety, but we should remember that sport is a social glue in the suburbs and country towns.
"If the AFL is considering whether or not fans could attend games as soon as July, surely the same could be considered for our suburban and country games."
Story: Caleb Scanlon and Chanel Koeleman