With many local governments keen to include nature in new developments, RMIT ecologists working on Australia's biggest urban renewal project share what they've learned about delivering true biodiversity.
The Fishermans Bend precinct, about 5km from the Melbourne's city centre, is nearly twice the size of the CBD.
By 2050, about 80,000 residents will call the area home, and the redevelopment is putting biodiversity at the forefront.
Led by RMIT University's Dr Holly Kirk, this is the first real-world application of Biodiversity Sensitive Urban Design at Fisherman's Bend.
Kirk, from the ICON Science team based at the Centre for Urban Research, says creating space for "everyday nature" in cities can improve wellbeing and connect residents to Indigenous history and culture.
To achieve this vision, she shares seven ways local governments around the country can deliver high-quality biodiversity outcomes in their own urban environments.
1. Identify and protect existing vegetation
Diverse vegetation is key for enhancing biodiversity in new and existing developments.
Existing vegetation is valuable because it provides resources for immediate use by native species as well as other instant benefits such as urban cooling.
Plants on a site also provide critical information about which areas are currently suitable for hosting new vegetation.
Often trees within the public realm are the only form of vegetation that is assessed but you need a comprehensive assessment of the quantity and quality of all types of vegetation currently on a site before planning and development.
2. Dedicate "green links" connecting workers and residents
Green links are corridors that connect wildlife and habitat pockets across suburbs, backyards and public parks.
These links, made up of connected linear parks, include large canopy trees, diverse understorey vegetation, space for walking and cycling, and places for storing stormwater.
This contributes to multiple levels of biodiversity infrastructure and significantly improves ecological connectivity.
Green links allow people to travel across a development safely away from vehicles and pollution. The links promote outdoor exercise and help people to form everyday connections with nature.
3. Make the most of green spaces and streetscapes for biodiversity
Maximising green spaces can be done by enhancing ecological function.
For example, enhancing streetscapes with diverse vegetation such as clumps of dense flowering plants or placing native shrubs with a mixture of heights and structures in garden beds around sporting ovals.
By creating a diversity of vegetation structures, we contribute to overall biodiversity and provide important resources for native wildlife, like flower foods for insects and nesting sites for birds.
Enhancing all spaces for nature ensures that people will experience urban biodiversity every day.
4. Connect with Indigenous history and culture
New developments often occur in locations where Indigenous cultures have traditionally thrived, frequently alongside high levels of biodiversity.
Many ecosystems rely on traditional land management practices to maintain high levels of diversity – Aboriginal fire regimes in Australia are a good example.
Connecting urban residents to Indigenous history and culture through urban renaturing programs can help to create respectful attitudes and pride in local Indigenous knowledge.
5. Create biodiverse freeway overpasses and bridges
These are required to mitigate significant barriers to animal movement presented by major roads.
Local native animals need to safely move around urban spaces to find food, mates and places to rest. Roads and major rail lines create impassable barriers and contribute to mortality.
By rethinking urban road crossing structures as ecological bridges we provide connections for both people and nature.
Without providing ways for wildlife to safely cross major roads, achieving biodiversity objectives is extremely unlikely. Biodiverse overpasses can also be compatible with walking and cycling.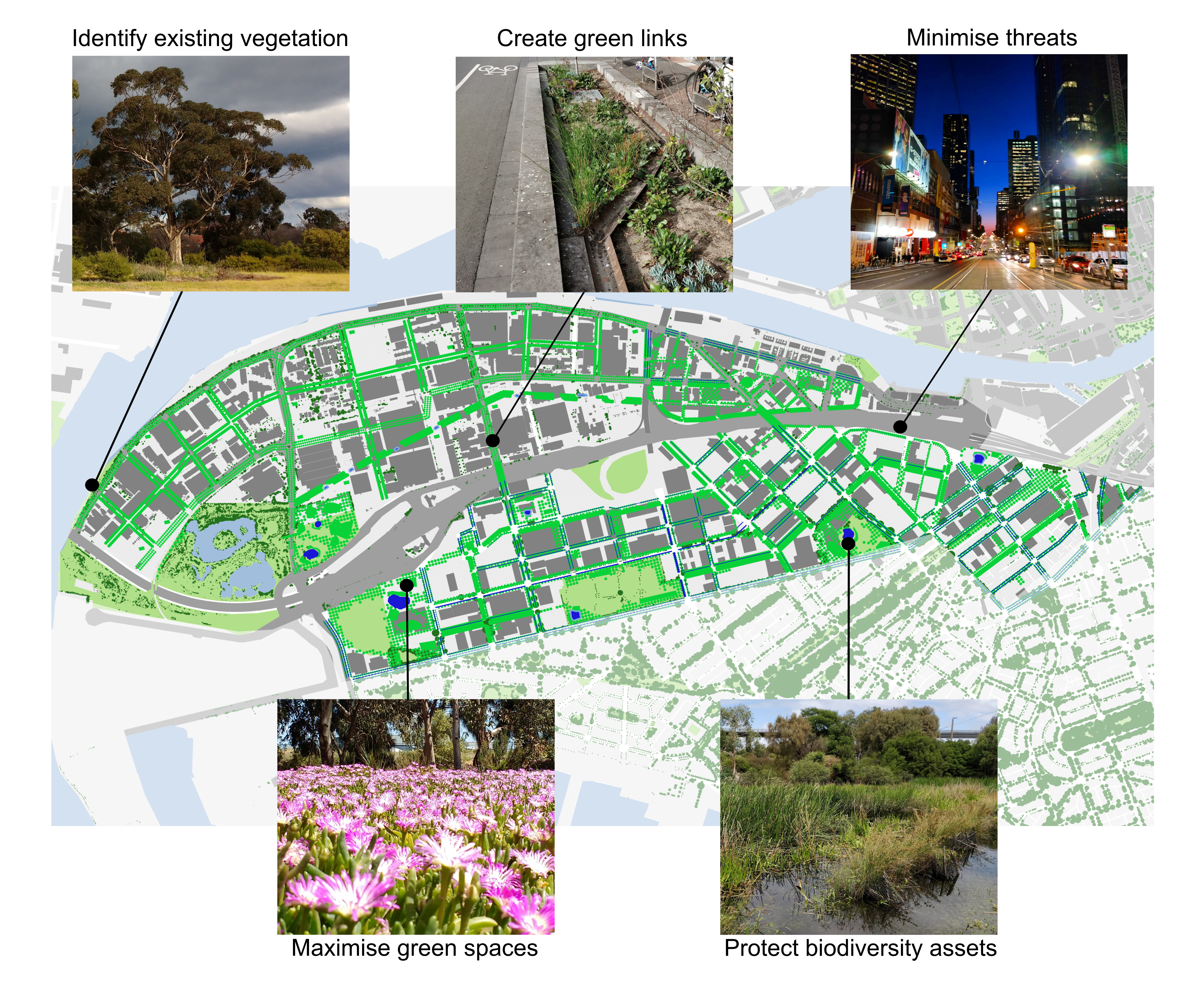 6. Put in place systems for long-term protection of biodiversity
Existing vegetation protection regulations may not be enough to ensure the ongoing protection of planted vegetation and the constructed ecosystems necessary to achieve biodiversity.
Novel funding and governance arrangements could be considered here, like the New South Wales' Biodiversity Assessment Method or green bonds, as well as regulation, maintenance and management.
7. Manage key threats to biodiversity
Providing novel urban resources for biodiversity will help to ensure nature persists in urban developments. But without accounting for common threats to native species we risk damaging new and existing urban nature.
By introducing or strengthening local laws we can safeguard urban biodiversity.
This includes restrictions on pesticide use to protect indigenous plants and insects, lowering speed limits to stop wildlife-traffic collisions and enforcing cat containment to prevent predation of native animals.
The paper Building biodiversity into the urban fabric: A case study in applying Biodiversity Sensitive Urban Design (BSUD) published in Urban Forestry & Urban Greening details the methods used to co-create biodiversity with different stakeholders to encourage successful outcomes for nature and urban planning.
Story: Chanel Koeleman